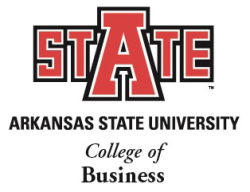 Dean of Business Administration
Arkansas State University
Position Summary:
Arkansas State University seeks a visionary leader with an entrepreneurial spirit to create a competitive advantage as Dean of the Neil Griffin College of Business. The Dean is the chief intellectual and administrative leader of the Neil Griffin College of Business and an advocate for the mission and purpose of the College's academic programs.
The Dean reports to the Provost and Vice Chancellor for Academic Affairs and will develop extensive working relationships with the university's executive leaders, as well as academic, student, and community leaders. The dean works closely and consults with the faculty of the college and fully engages in university shared-governance.

Duties & Responsibilities:
Primary responsibilities for the dean include articulating a clear vision for the future direction of the college; building and maintaining the quality of existing programs; developing new programs; expanding online program offerings; supporting faculty teaching, scholarship and service; embracing and driving student recruitment, retention and degree completion; planning and coordinating program reviews to maintain AACSB accreditation; strengthening relationships that support academics and research with the business community both domestically and internationally; enhancing a culture of diversity and community with faculty, staff, and students; teaching a course annually; and acquiring resources through fundraising to enhance teaching and research within the College.
Special features of the College include:
The unique and collaborative Women's Business Leadership Center established by career and professional women, faculty, and alumni to cultivate women leaders through mentoring, scholarships, and conferences.
The R.M. "Bob" Wood Sales Leadership Center received recognized as one of the top centers by the Sales Education Foundation.
The Delta Center for Economic Development, coordinates the economic development outreach services of A-State, serving businesses, governments, and citizens.
The Arkansas Small Business and Technology Development Center (ASBTDC) assists entrepreneurs in economic development program.
The endowed Bradbury Free Enterprise Certificate program, designed to stimulate debate about the free enterprise system.
The university's partnership with Embassy Suites for a campus-based hotel and convention center to develop a new program in Hospitality Management.
Arkansas State University Campus Queretaro, the first U.S.A. style campus in Mexico, offers business courses and numerous prospects for major corporation partnerships.
The university's partnership with the New York Institute of Technology (NYIT) School of Osteopathic Medicine and possible opportunities for unique healthcare management programs.

General Days/Hours:
Monday - Friday
8:00 a.m. - 5:00 p.m.
Additional hours as requested and/or needed
Knowledge/Skills/Ability:
Skills for recruiting and retention of diverse students
Demonstrated success in fundraising and obtaining research grants
Demonstrated exceptional skills and leadership in areas of program assessment and AACSB accreditation
Please follow the link to apply: https://chj.tbe.taleo.net/chj05/ats/careers/v2/jobSearch?act=redirectCwsV2&cws=40&org=ARKASTAT2
The candidate should submit a Cover Letter, CV, Letter describing their qualifications, statement describing their vision for the Neil Griffin College of Business as it relates to the role and responsibilities of the Dean at a Public Research University.
Review of applications will begin April 2, 2018 and continue until the position is filled.
The College offers BS degrees in Accountancy, Business Administration, Business Economics, Computer Information Technology, Finance, Global Supply Chain Management, International Business, Management and Marketing. A BSE is offered in Business Technology, as is a BA in Economics. Graduate programs include the Master of Business Administration, including a top ranked Online MBA, and the Master of Accountancy.
When inquiring or applying for this job opening, please also reference AcademicCareers.com
Applicants with dual-career considerations can find university jobs such as professor jobs, dean jobs, chair / department head jobs, and other faculty jobs and employment opportunities at Arkansas State University and at other institutions of higher education in the region on www.AcademicCareers.com
Arkansas State University does not discriminate on the basis of color, sex, sexual orientation, gender identity, race, age, national origin, religion, marital status, veteran status, genetic information or disability in any of its practices, policies or procedures. This includes, but is not limited to, employment, admissions, educational services, programs or activities which it operates or financial aid.
A-State has a strong institutional commitment to the achievement of excellence and diversity among its faculty, staff, and students. A-State is also committed to creating a productive workplace in which both persons and property are secure. To achieve that goal, background investigations are conducted on all final applicants recommended for employment.