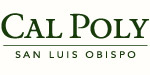 Full-Time Lecturer - Electrical Engineering
California Polytechnic State University
ELECTRICAL ENGINEERING DEPARTMENT: FULL-TIME LECTURER. The Electrical Engineering Department within the College of Engineering at Cal Poly, San Luis Obispo, is seeking to hire one full-time Lecturer beginning September 13, 2018. Primary duties will be to teach undergraduate Electrical and Computer Engineering courses in the areas of Digital and Computer Design Coursework, Electric Circuit Analysis, Electronic Design, Control Systems, Communication Systems, and Signal Processing.
To apply, visit WWW.CALPOLYJOBS.ORG, complete required online faculty application, and apply to requisition #104611. Applicants are encouraged to submit materials by the REVIEW
BEGIN DATE: April 1, 2018 for full consideration.
EEO.
When inquiring or applying for this job opening, please also reference AcademicCareers.com
Applicants with dual-career considerations can find university jobs such as professor jobs, dean jobs, chair / department head jobs, and other faculty jobs and employment opportunities at California Polytechnic State University and at other institutions of higher education in the region on www.AcademicCareers.com