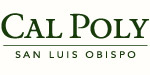 Assistant or Associate Professor - Electrical Engineering
California Polytechnic State University
ASSISTANT/ASSOCIATE PROFESSOR IN ELECTRICAL AND COMPUTER ENGINEERING: The Electrical Engineering Department within the College of Engineering at Cal Poly State University, San Luis Obispo, CA invite applications for an anticipated full-time, academic year, tenure-track faculty position in the area of electrical and computer engineering at a rank and salary commensurate with the applicant's background and experience. The anticipated start date is September 13, 2018.
Duties include teaching undergraduate and graduate electrical engineering courses, building a collaborative research program in an area related to Electric Power Systems, and service to the department, college of engineering, university, and community. Teaching responsibilities include electric power systems core curriculum offerings, technical electives, and graduate classes aligned to the candidate's experience
For details, qualifications, and application instructions (online application required), visit WWW.CALPOLYJOBS.ORG and refer to requisition #104634.
Application review begins January 3, 2018 and will continue until the position is filled.
EEO.
When inquiring or applying for this job opening, please also reference AcademicCareers.com
Applicants with dual-career considerations can find university jobs such as professor jobs, dean jobs, chair / department head jobs, and other faculty jobs and employment opportunities at California Polytechnic State University and at other institutions of higher education in the region on www.AcademicCareers.com